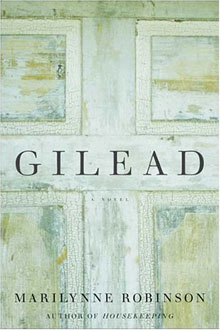 This book was the winner of the Pulitzer Prize for Fiction in 2005 and is also the choice for my book club this month. I actually purchased this book a year ago when I was waiting impatiently for Bella to show up. I never got to it, but I'm glad I had an excuse to read it now.
The book is set in the fictional town of Gilead, Iowa in the mid-1950s. Reverend John Ames has been diagnosed with a terminal heart condition in his late 70s. The book is an autobiographical account written to his 7-year old son, the product of a marriage late in life to a much younger woman. The Reverend is a third-generation preacher, and speaks mostly of his rather eccentric grandfather in reflection of his upbringing.
The plot moves slowly through the first half of the book, but picks up some during the last half when Ames' godson, the son of his best friend (also a minister) shows up in town. The spiritual reflections are quite thought-provoking and I will admit feeling somewhat more intelligent for having read this. But it certainly wasn't a book I can really rave about story-wise.
One thing I did wonder about while reading
Gilead
is how true Marilynne Robinson is to an elderly male voice. Obviously, I'll never know for sure since I am neither male nor elderly (at this point). But, I do think she pulled it off--which reminded me of male authors who I think understand females quite well such as Leo Tolstoy, Alexander McCall Smith and Arthur Golden. It must take a huge amount of talent to write as another gender, to be sure.