Tuesday, July 26, 2016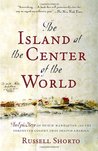 The Island at the Center of the World: The Epic Story of Dutch Manhattan and the Forgotten Colony That Shaped America
by
Russell Shorto
My rating:
4 of 5 stars
This was recommended to me by a fantastic NYC walking tour guide and for good reason. It's a time and place in history that Americans often skip over, but it actually influences our lives everyday. It's fascinating that so much of it has only come to light in the last few decades.
Wednesday, May 25, 2016
The Gifts of Imperfection: Let Go of Who You Think You're Supposed to Be and Embrace Who You Are
by
Brené Brown
My rating:
4 of 5 stars
I rarely read this type of book, but this came at a good time for me. She has some great suggestions for ways to tweak day-to-day life to live more wholeheartedly and authentically.
Out of the Storm
by
Jody Hedlund
My rating:
4 of 5 stars
Sweet historical romance novella.
Beautiful Affliction
by
Lene Fogelberg
My rating:
4 of 5 stars
I loved the poetic and lyrical style of this memoir written by a woman born with a congenital heart defect that went undiagnosed for 30 years. Incredible story.
The Grand Sophy
by
Georgette Heyer
My rating:
5 of 5 stars
Re-read this one by accident. Still thought it was darling!