Saturday, March 11, 2017
Dive the Cayman Islands
by
Lawson Wood
My rating:
3 of 5 stars
Felt like this was probably better for divers than snorklers, but still a useful guide.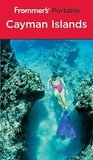 Frommer's Portable Cayman Islands
by
Darwin Porter
My rating:
4 of 5 stars
Best guide my library carries. Definitely did the job admirably.
Friday, March 10, 2017
The Hating Game
by
Sally Thorne
My rating:
3.5 of 5 stars
Laugh-out-loud funny. Good beach read.
Thursday, March 9, 2017
Domina
by
Barbara Wood
My rating:
4 of 5 stars
I really enjoyed this historical move fictionalizing what it would have been like to be a female doctor in the late 1800s. A bit of a soap opera, but super entertaining.